Description
Lynx Heli Innovations has redesigned and improved the standard Logo 690 swash plate using double radial bearing base support and a combination of 7075 aluminum alloy, chrome steel and copolymer parts.
Th same Swash Plate is used in many other Logo Helicopter see p/n reference form Logo 500 and over.
Lynx introduce also a replaceable low friction copolymer spherical swivel bearing and robust stainless steel linkage balls that comes fully assembled and ready to fly/plug and play.
We work tirelessly to optimize our designs and perform flight-testing to achieve the desired benefits with a final weight and design specification without compromise.  We are pilots, and we demand upgrades that truly deliver increased performance with the lightest weight possible.
Lynx Heli Innovations is proud to introduce our own in house design Spherical Swivel Bearing assembly that allows the swash plate to pivot around the main shaft better than ever!  Thanks to our experience and our desire to for better solutions, we have created a new Spherical Bearing bushing from a low friction copolymer to ensure an incredibly smooth, solid and precise swivel action while eliminating looseness between the ball and bushing for drastic elimination of any free play.
See cross section diagram, here below, to understand better about our fine design construction.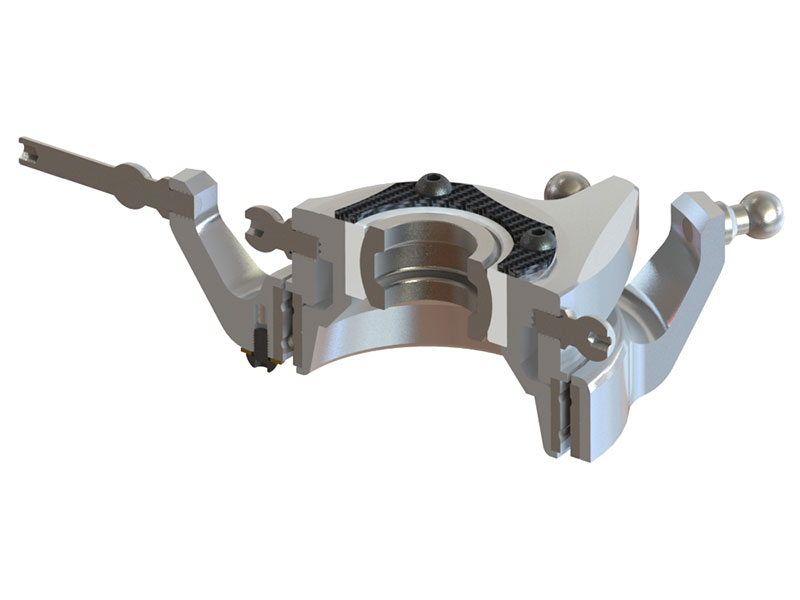 The Spherical Bearing assembly is now replaceable/serviceable by the customer.  It is composed of a chrome steel center ball and a low friction copolymer bushing surrounding the center ball.  These parts are proudly produced by Lynx and factory assembled to become the heart of the Lynx Ultra Swash Plate.
For those who push the limits and fly beyond them, this swash plate was designed to be almost completely rebuild-able by the customer.  Offering an economic service parts bag, you will be able to follow the simple instructions and replace the parts most prone to wear, the Spherical Bearing assembly and the linkage balls.  (The large center ball bearing is pre-lubricated and permanently mated to the housings and the center is press fit to ensure a long life.)
Thanks to our hard work and rigorous design specifications, the Lynx Logo 690 Ultra Swash Plate results in an incredibly strong and virtually indestructible part. Double radial sealed bearing connect upper and lower swash part removing any side-way angle play improving.
Attention to detail and design combined with material strength, durability, precise CNC tolerances, fit and finish and most important lightweight all contribute to the added precision and the ability for the customer to rebuild, which ensures the best possible performance flight after flight for the Logo 690.
The Lynx Logo 690 Ultra Swash Plate of course looks great, but it also has the benefits and performance increase to match!  Lynx Ultra Swash Plates are the next level in lightweight, precision and rebuild-able swash plates.
FEATURES:
-     Direct fit replacement part for the standard Logo 690 and (compatible other Logo Edition) swash plate.
-     Innovative in house designed and manufactured ultra precise Spherical Bearing for a smooth and solid swivel action.
-     Stainless Steel linkage balls for the best wear and shock resistance.
-     Double High quality ABEC5 Stainless Steel – Sealed radial ball bearing for maximum precision and durability.
-     Customer rebuild-able Swash Plate from service parts bag.
-     Factory assembled with thread lock on linkage balls and pre-lubricated bearing.
-     FEA (Final Elements Analysis) used in achieving the most lightweight part with maximum strength.
 TECHNICAL SPECIFICATION:
-     Swash Plate Material: Aluminum 7075-T6 – anodized finish
-     Linkage Ball Material: Stainless Steel – HRC 35
-     Sealed Ball Bearing Material: Stainless Steel – ABEC5 precision class – Made in Japan
-     Spherical Swivel Bearing Material: Center Ball Chrome Steel HRC40 / Swivel Bushing low-friction copolymer POM based.  
PACKING LIST:
-     1 x Logo 690 - Ultra Swash Plate, Silver - Factory assembled, ready to fly/plug and play